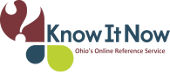 Ask a Librarian
In addition to in-person, phone, email, and reference form communications, the librarians at the State Library are available through KnowItNow24X7 when the library is open. After hours questions are directed to other librarians.
Reference Contact Form - Click here to submit a research question. We will reply as soon as possible when the library is open.
General Information: (614) 644-7061 or (800) 686-1532 (Ohio only)
Circulation Services: (614) 644-6950
Research Services: (614) 644-7051
Mailing Address:
274 East 1st Avenue, Suite 100
Columbus, OH 43201-3692
Directions
Business Hours: 8am-5pm Monday - Friday (Closed for State Holidays).
Staff and Department Directory
Share Your Story - tell how a State Library service or resource helped you
Report broken link from this site
Fax Numbers
| | |
| --- | --- |
| Administration | (614) 466-3584 |
| Employee Services | (614) 644-1972 |
| Fiscal Services | (614) 387-0601 |
| Information Systems & Technology | (614) 387-0600 |
| Research Services | (614) 644-7004 |
| SEO Library Center | (800) 446-4804 |